Description
New Portable Pet Puppy Cat Dog Doggy Indoor Potty Toilet Training Pads Tray
Description Indoor Dog Potty:
100% Brand New, High Quality
Total length: 48 cm.
Width: 36 cm.
Combining the new push button with a pet diapers, this pet toilet is made of high strength resin material, beautiful and practical. The grid can be freely taken out. You can also use the toilet as a ordinary toilet.
Putting in the strong absorbent, strong odor removal pet diapers can save much time and effort, and you will not need to worry about urine all over the floor of your home.
Package Included:
1 x Pet toilet.
1 x Grid.
---
Housetraining is part of being a responsible pet parent, but for some dog owners this task can come with obstacles and headaches. Adjusting to and overcoming these challenges can be difficult on both the dog and the owner. Recent developments in the dog toilet industry offer pet owners more options.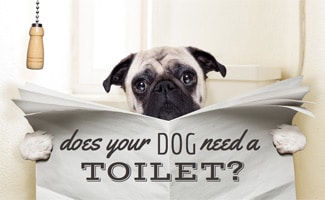 Below we will take a look at some of the available indoor dog toilet options and how they may be the best indoor dog potty for you and your dog, whether they are a puppy learning where to go or an aging dog who needs a little in-home assistance.
What is an Indoor Dog Potty Toilet?
The term "indoor dog Potty toilet" can refer to a few different products.
The most popular indoor dog toilet is the Pet Park. The Pet Park concept focuses on providing an indoor section of faux grass where dogs can use the toilet without having to go outside.
If you want an easier clean up and less smelly one, take a look at the BrilliantPad.
Another more recent trend in indoor dog toilets is the use of a litter box. Some dog breeds are particularly adaptive to litter box training.
The grated pet toilet is another option that provides indoor toilet facilities for dogs by providing a tray fitted with a grate.
Potty pads are another method for indoor toileting; this option is generally utilized by dog owners when they are housetraining their dog.
Diapering is another solution that is considered by owners of elderly dogs; however, this is less of a "toilet" and more of a means of containment.
Find others indoor dog Potty at dog supplies.